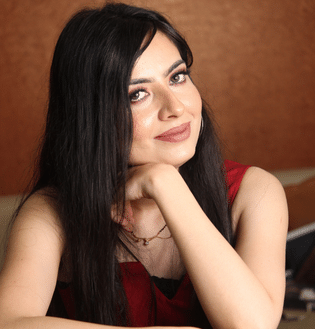 Shweta is an internationally certified makeup artist who holds an experience of around 5 years in Makeup Artistry which has been her passion since she was in 8th standard. Her interest in makeup arose when she found her cousin using foundation and shimmering eyeshadows in her wedding trousseau, ever since then she used to secretly doll her cousin's daughter who was 3 years old with whatever product she could get her hands at.
With that being said, she grew up to be an engineer and worked as an IT professional because of her family's non acceptance to work in this field. After working in IT for 5 years, she decided she couldn't continue working in IT for the rest of her career and she took a decision of quitting her IT job and pursue Makeup Artistry from one of the most esteemed colleges in the world, which is London College of Makeup, where she took an exam to get certified as an IMA makeup artist and after getting back to India there was no turning back from there. 
She founded Facesculptures and started her own studio in Indiranagar, Bangalore. Being from North India, she's dolled up many North Indian brides along with brides from different cultures in South India, Tamilian, Malayalam, Westerners, Nigerian, and brides from various other cultures as well. Her forte is doing absolutely natural looking makeup for which she has received so many reviews from her clients which speak volumes of how talented she is at her work.
Apart from being a Makeup Artist, Shweta is an ardent photographer as well, all the shoots of her models are done by Shweta herself. She has also been a national level player of Table Tennis and is a singer too, she has also sung on National Television during her schooling. She also took one on one classes from P.Louise Academy, a couple of Brazilian and Nigerian Makeup Artists too to further enhance her skills in dealing with different skin tones and nationalities. Her work competes with most other renowned artists in India. You wouldn't feel a thing when she will work on your skin, brushes would just fly in the air without you feeling them touching your skin and that's how her signature natural makeup look comes into play.
Our Vision is to see everyone who is passionate about make-up, take it up as their career and succeed in it. Because it is not just about us, but equally about you too.